Free Quote Site Reviews:
The Good, the Bad, the Ugly



All information current as of December 2006
Countless policyholders-to-be browse sites in a virtual act called "shopping around", or comparing various sites to save time and money. With ads penetrating the Internet like clockwork and so many websites, which sites should you pay attention to the most? Providing unbiased, accuracy in all our reviews - we've decided to venture forth into the insurance site realm and handpick five for review.
The contenders: Insurance.com, Esurance.com, Insweb.com, Netquote.com, and Progressive.com

Insurance.com his insurance broker is the Kingpin of all insurance quote sites. It's reputability is backed by a "Get Quote Now" menu on its main page leading an extensive, 5-page form that asks for the works: basic profile information, violation, accidents, and vehicle information. In addition it asks for the type of coverage you wish to receive with suggestions in bold. There is even a healthy "application status" bar that notes how far into the application you're on (I'm 90% completed at the time of this writing.) When the application is done, it leads you to a results page listing various insurance companies and their offers such as this one:
Thumbs Up: While I was filling out Insurance.com's Request a Quote form, a popup window came up asking if I wanted to speak to a live representative via chat or phone. This is a nifty feature, although it doesn't appear everytime you fill out the form (I filled it out three times, each time entering different information.) In addition, auto insurance seekers may feel fulfilled knowing the Request Form is asking for every detail. On the downside, filling it out is excruciatingly slow.
Thumbs Down: The "Get Quotes Now" feature is very misleading. Click on "No" where it asks "Do you currently have auto insurance?" and it automatically leads you to a Geico page. No offers for rate comparison is offered here. Clicking "Yes" on the same question leads you to the 5-page form, which leads us to believe Insurance.com is targetted towards those with current auto insurance. However, the second page of the form asks "Do you current have auto insurance." which is confusing again.
Don't be surprised if you spend 15 minutes filling out a request for quotes. Every single record is scrutinized down to what your level of education is. Their "discount questions" section, designed to assess your eligibility for slashed auto insurance premiums, seems unsincere. It asks if you have life and disability insurance, which looks like a marketing tactic.
Looking at the screenshot, four companies offered me quotes: AIG, Esurance, Liberal Mutual, and Drive Insurance from Progressive. The difference between AIG (the cheapest) and Progressive's (most expensive) 6-month plan was close to $1000, so Insurance.com's result pages offer diverse options. Although rates were extraordinary high (the screenshot reflects New York rates), it exemplifies "shopping around."
The Last Word: Insurance.com had the longest application process from the five I studied. They ask for everything! Compare the "savings" they offer to your current insurance rates and get back to me (I don't own a car) on your results!


----- ----- ----- ----- ----- ----- ----- ----- ----- ----- ----- ----- ----- -----



NetQuote.com is another leading online insurance broker. This site works with countless companies and prides on calling itself "a consumer service, not an insurance company." Fair enough. Unlike the other insurance sites, it holds a unique premise. Instead of listing quotes from carriers like Progressive and AIG, successfully filling out a Request a Quote form leads to an email with a link to a list of insurance agents who will be contacting you over the phone or snail mail::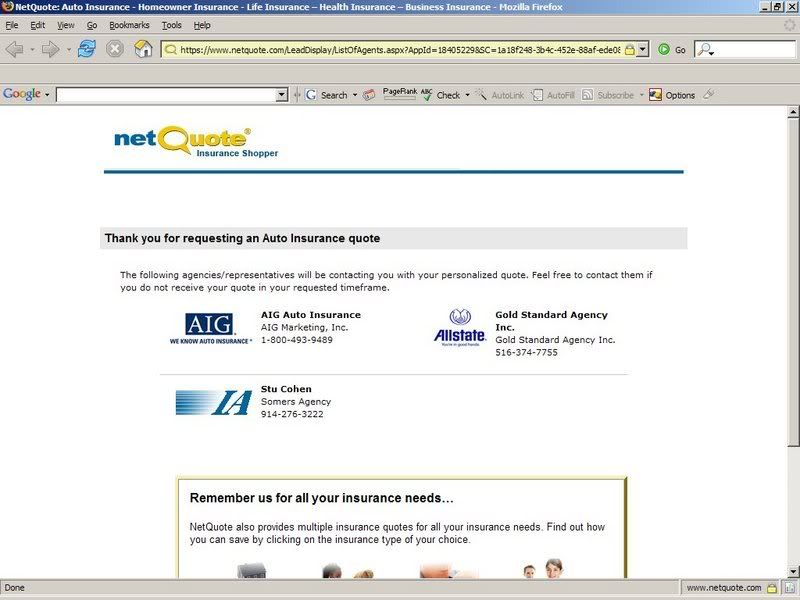 Posted on: 12/3/06 12:49:16 P